Fumigation Training

NEXT FUMIGATION TRAINING COURSE - UNIT CPPPMT3011 Manage organisms by applying fumigants to commodities or environments WILL BE HELD IN MAROOCHYDORE QLD 22nd JUNE to 25th JUNE 2020

DEPT. OF AGRICULTURE - BIOSECURITY (DAWE/DAFF) AFAS METHYL BROMIDE ACCREDITATION COURSE WILL BE HELD IN BRISBANE 27th JULY to 30th JULY 2020

PLEASE ADVISE EXPRESSION OF INTEREST BY EMAIL

DO YOU NEED SOMETHING ORGANISED SOONER? CONTACT US

All Enquiries to info@protrain.com.au
---
What is your Answer?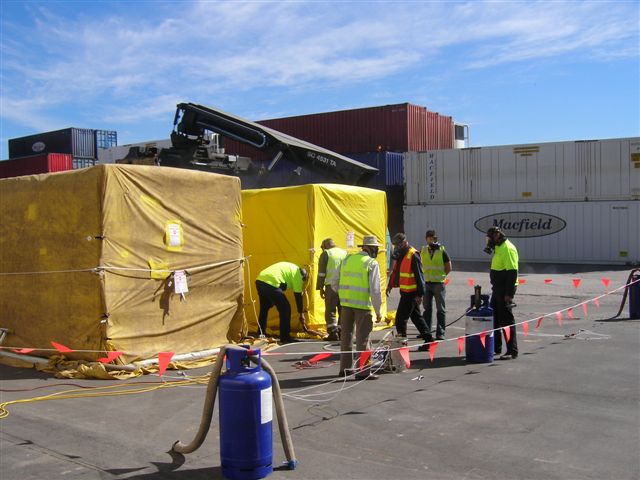 Do you wish to:
If you answered Yes to any of the questions then you need to contact the team at Fumigation Training & Consulting Services (FTCS)
FTCS offers a range of genuine off-the-shelf and tailor-made workplace training and coaching packages to enable participants to register for their Fumigator Licence through their local state licensing authority.
FTCS training and assessing is undertaken in association with a Registered Training Organisation (RTO)
Once the Workplace Assessment, in accordance with the requirements of CPPPMT3011 Manage organisms by applying fumignats to commodities or environments, has been successfully undertaken, a Statement of Attainment will be issued to each successful candidate by a Registered Training Oranisation (RTO) plus FTCS will provide a Site Environment and Gas Specific Assessment Declaration as required.
A Certificate of Attainment in any of the National Competency Units is eligible for up to 40 Industry CPD (Continuing Professional Development) Points.
If you have current industry experience, please check the page relating to Recognition of Prior Learning (RPL) Assessments.
FTCS can adapt most programs to meet your individual needs